We understand that most completion or refurbishment projects start with some unknowns and many moving pieces.  We also understand that a design and certification firm must integrate into the project seamlessly to reduce the associated risks and subsequently maximize the probability of a successful project.  We equate success with total customer satisfaction and know that quality work that is on schedule and within budget is the key to getting and keeping customers. 
Our services include, but are not limited to:
Design: Avionics, Electrical, and Mechanical Systems, Primary and Secondary Structures, Interior Monuments and General Arrangement
Analysis: Strength/Stress, Electrical Load, Damage Tolerance, Crack Growth, Aerodynamic Load, Rapid Decompression, Finite Element, Fault Hazard Assessment
Certification: FAA DER Approvals, Supplemental Type Certificates (STC), Parts Manufacturer Approvals (PMA), Airworthiness Tag Issuance, Field Approval Support, and General FAA Coordination and Interface Support
Project Management and On-site Liaison Support
Prototyping/Tooling Drawings
Static Testing from the Interior Complex Level Down to the Component/Sub-Assembly Level
Flammability - Test Plans, Reports, and FAA approval
FAA Conformity Inspections
FAA/DER Test Witnessing
Aircraft Export/Import Certification
Process Spec/Design Standard Generation
Fully Operational Static Test Facility
AeroNautique now has a fully operational static test facility adjacent to Tulsa International Airport. The test facility also features an adjoining machine and cabinet shop for rapid response to fixture and/or component modification. Static test capabilities include pull tests for highly loaded galley and lav complexes, joint allowable programs (pinned and pinless) and FAA approved pin and insert data.
Data Acquisition for Honeycomb Panel Pin Test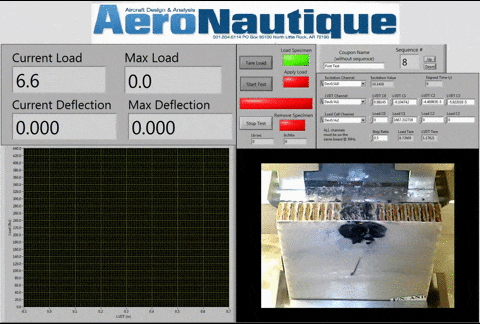 Latch Cycle Testing